Hydrotherapy pool at Centre for Child Development supported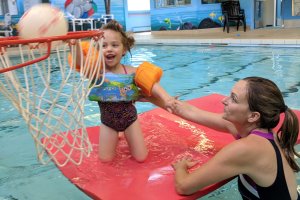 Over 3,000 children and youth with special needs in the South Fraser area, including 600 children living in Delta, receive various therapies from The Centre for Child Development of the Lower Mainland so they can reach their potential.
With a donation of $2,500 to The Child Development Foundation of BC, the Delta Foundation has provided support for The Centre's Hydrotherapy Pool at its facility in Surrey. The donation is contributing to a variety of equipment, including aquatic wheelchairs, ceiling-track pool slings, and pool equipment components, including filters, heat exchangers, and water treatment equipment.
The Centre serves children from age 0 to 19 years with a variety of neurological, orthopedic, developmental and learning disabilities, including: cerebral palsy, spina bifida, Down syndrome, autism, ADHD, brain injuries, and other disabilities.
The Centre's therapies are play­based and the medical rehabilitative services include: pediatric psychology, family services social workers, occupational therapy, speech-language therapy, physiotherapy, early childhood education, supported child development, recreation/hydrotherapy, nutrition counselling, and child-abuse victim services.
The Centre has received highest possible accreditation for five consecutive three­year periods from the worldwide international Commission on Accreditation of Rehabilitative Facilities (CARF). It is the only CARF accredited Outpatient Medical Rehabilitation Program (Pediatric Specialty) in Western Canada.
Chief Executive Officer of The Centre for Child Development and the Child Development Foundation of BC, Gerard Bremault (left) with Director of Recreation Services Heidi Wagner (centre) and Vice President Alison Obrecht (right) welcomed Delta Foundation President Peter Roaf (2nd left) and Grants Chair Walt Hayward (2nd right) upon receiving a $5,000 donation for the hydrotherapy pool equipment