Evolution Group of Companies is hosting a charity shopping event for the community. Proceeds from Nov 10-13 weekend to support Delta Community Foundation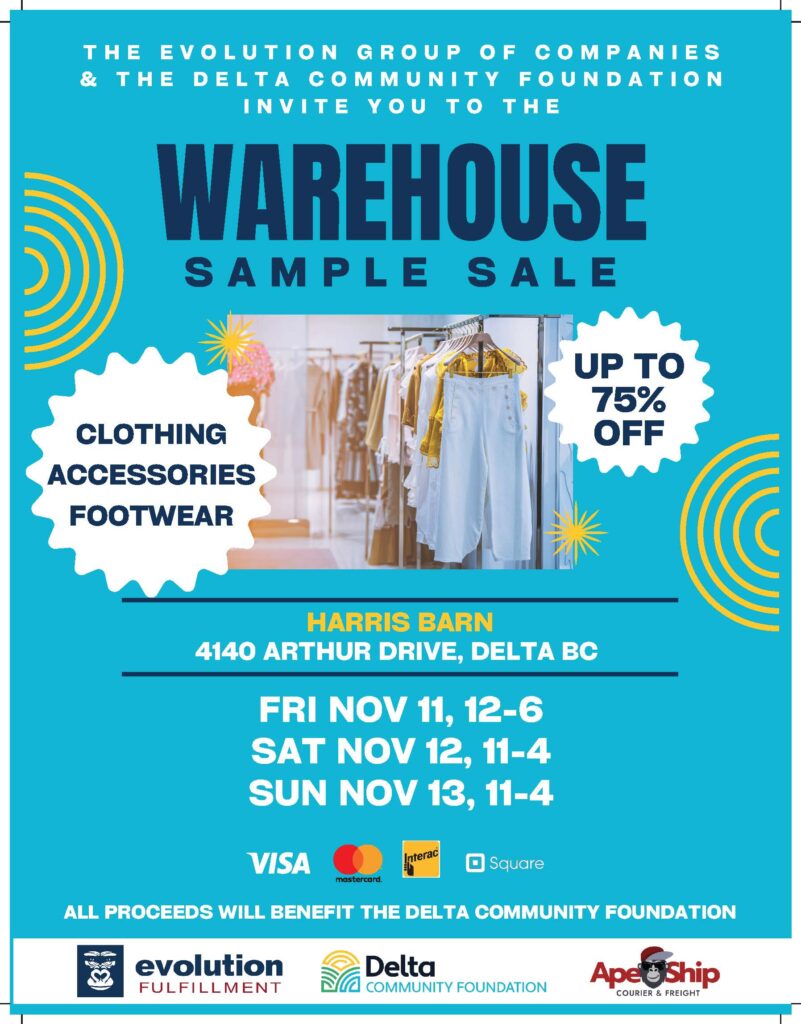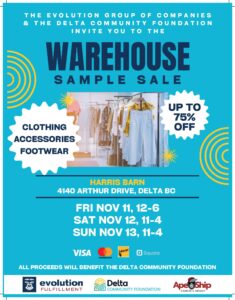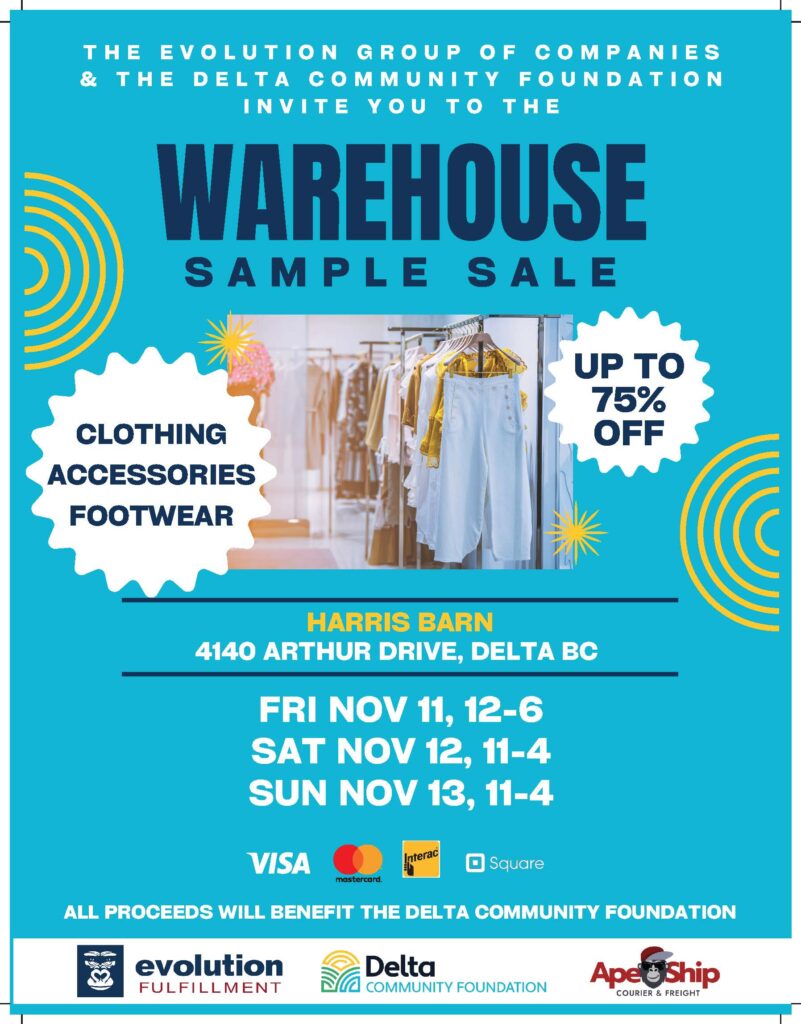 Looking to do some early Christmas shopping this year? Perhaps you're looking for some new brands to add to your closet? Then you are in luck because Evolution Group of Companies and Delta Community Foundation are partnering up once again to bring you a massive warehouse sale this Remembrance Day long weekend.
Taking place from Friday, November 11th – Sunday, November 13th at the Harris Barn in Delta, shoppers will be able to find a large selection of clothing, shoes, accessories and much more. The community will see savings of up to 75% off retail prices at the warehouse sale and as a bonus proceeds from this sale will be supporting Delta charities.
This past May, Evolution and Delta Community Foundation hosted a Mother's Day warehouse sale where Evolution Fulfillment and Ape Ship Courier & Freight raised $30,000 to benefit the Delta Community Foundation.
Dion Willis, COO of Evolution Fulfillment Inc., has roots in Delta and explains: "This event has enabled our group to find a perfect way to give back to the community we work and live in.  Our last Event sale brought so much positivity, to a variety of charities throughout Delta, and has been an incredible experience for our team to be a part of.  Looking forward to doing it all over again in November!" "This November Sale will include some home cookware, additional footwear brands and wide variety of fashion clothing", says Dion.
'On behalf of the Delta Community Foundation, I am extremely pleased to announce that we are hosting a follow up to the extremely successful warehouse sale held back in May. Come out and do your early Christmas shopping! There will be deals on high quality items galore…and the bonus is that all proceeds will go towards supporting the citizens of Delta through the Delta Community Foundation', says Delta Community Foundation Chair, Gail Martin.
Carlene Lewall, Vice Chair of the Delta Community Foundation, is looking forward to this warehouse sale.  'We feel very fortunate to be supported by Evolution Group and Ape Ship. Our last sale was such a success and with proceeds from the May sale, we were able to offer much needed mental health funding to an organization in Delta.  The proceeds from this sale will help us to further this mission of supporting even more urgent needs in our community'.
The November Warehouse sale will take place Friday, November 11th 12-6pm, Saturday, November 12th 11-4pm, and Sunday, November 13th 11-4pm. Cash, credit, and debit are all accepted; however, all sales are final. Admission is free.
About Evolution Group of Companies
Established in 2010, Evolution Group of Companies has grown to include five distinct operating entities: Evolution Fulfillment, Evolution Global, Ape Ship, Order Marshal and Blastramp. Each one of these brands is unique in its own way and effectively allow international business to operate in Canada and the US with turnkey order fulfillment solutions. They focus on efficiencies, solutions, and technologies to set them apart.
From warehousing and fulfillment, customer service and accounting to software integrations, application development and shipping and courier – they have evolved to cover all aspects of supply chain management.
About Delta Community Foundation
For more than 35 years, the Delta Community Foundation has been the only charity that gives to all other charities in Delta.
Through the generosity of Delta Community Foundation donors, the Foundation is able to fund initiatives, charities, and non-profit organizations operating in sectors such as mental health, education, arts, culture & heritage, children & youth, environment, food security, Indigenous initiatives, neighborhoods, seniors, and much, much more.
The success of the Delta Community Foundation comes from the Delta community and the committed community members who have volunteered their time, professional expertise, and passion for supporting a caring Delta community.
For more information about the Delta Community Foundation, how to get involved or make a donation, visit www.deltafoundation.org