Townhome BBQ with Neighbourhood Small Grant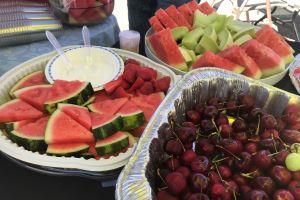 Grant, Neighbourhood Small Grant
A 30-year-old townhouse complex in Ladner attracted 90 seniors residents to a community BBQ in one of the cul-de-sacs on July 21, 2019 with the help of a Neighbourhood Small Grant of $400.
Without a central meeting room, this get together in a casual setting was valuable for welcoming newcomers, connecting neighbours beyond their immediate homes, overcoming loneliness for some and even exchanging services among others.
The residents collected boxes of donations to the South Delta Food Bank.