Delta Community Foundation Supports Heron Hospice Grief Counselling Program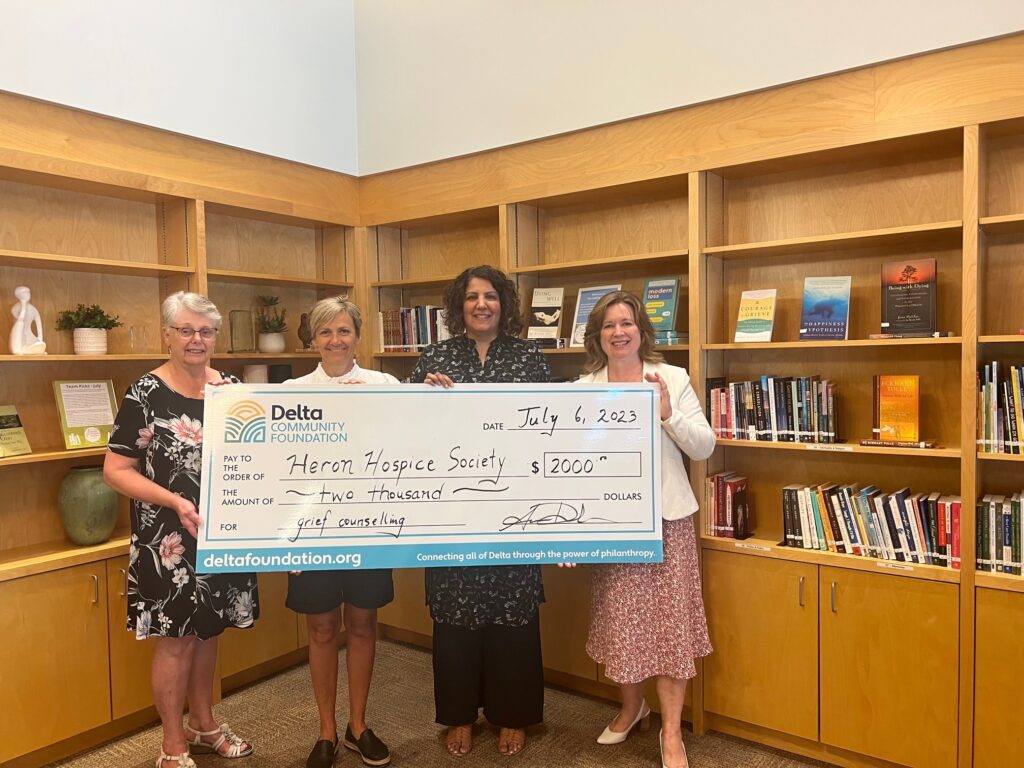 The Delta Community Foundation recognized the important work of the Heron Hospice Society of Delta with a $2000 donation towards bereavement support programs. Dealing with loss, uncertainty, and change, as well as having to make decisions associated with an advanced illness, can be difficult to navigate while experiencing strong emotional responses. The Heron Hospice Society of Delta offers a safe, non judgmental space, with specially trained counsellors, that provide practical and emotional support to individuals and families navigating the journey of grief.
 'We are grateful for the support from the Delta Community Foundation. With the support from organizations like this, we are able to offer a limited number of counselling sessions at no cost to Delta residents. Our programs include 1:1 counselling sessions, grief support groups, relaxation circles, volunteer support visits and a library for Delta residents who are seeking hospice or bereavement support.', said Heron Hospice Director, Laura Dixon. 
"The Delta Community Foundation supports organizations for Deltans throughout the continuum of life. The Heron Hospice Society of Delta is a fundamental part of that. We are pleased to be able to help them deliver these important services at such a sensitive time in their grief journey",says Gail Martin, President, Delta Community Foundation.
About the Heron Hospice Society of Delta
The Heron Hospice Society of Delta provides compassionate care and end of life support to people with life-limiting illness and their families; and support for individuals who are grieving the loss of a loved one. Heron Hospice believes end of life does not have to be scary, painful or lonely and believe that no one should have to take this journey alone.  Through hospice and bereavement support programs and services, they  care for the community with compassion, respect, dignity and integrity, honouring all end of life choices. 
About Delta Community Foundation
For more than 35 years, the Delta Community Foundation has been the charity that disperses funds to smaller charities serving the citizens of Delta.
Through the generosity of donors, the Foundation is able to fund scholarships, grants to charities and non-profit organizations operating in sectors as diverse as mental health, education, arts, culture & heritage, children & youth, environment, food security, Indigenous initiatives, neighborhoods, seniors, physical activity for all ages. 
Whether considering a small donation, a large endowment, a legacy gift or anything in between, the Foundation works with donors to achieve their financial objectives and philanthropic goals.
For more information about the Delta Community Foundation, how to get involved or make a donation, visit www.deltafoundation.org
 Below (left to right): Heron Hospice Director Decima Mitchell, Delta Community Foundation Director, Gillian Lowrey, Delta Community Foundation Director of Grants, Ammen Dhillon, and Heron Hospice Director Laura Dixon.