Locally-based companies Evolution Fulfillment, Ape Ship, raise $30,000 in support of the Delta Community Foundation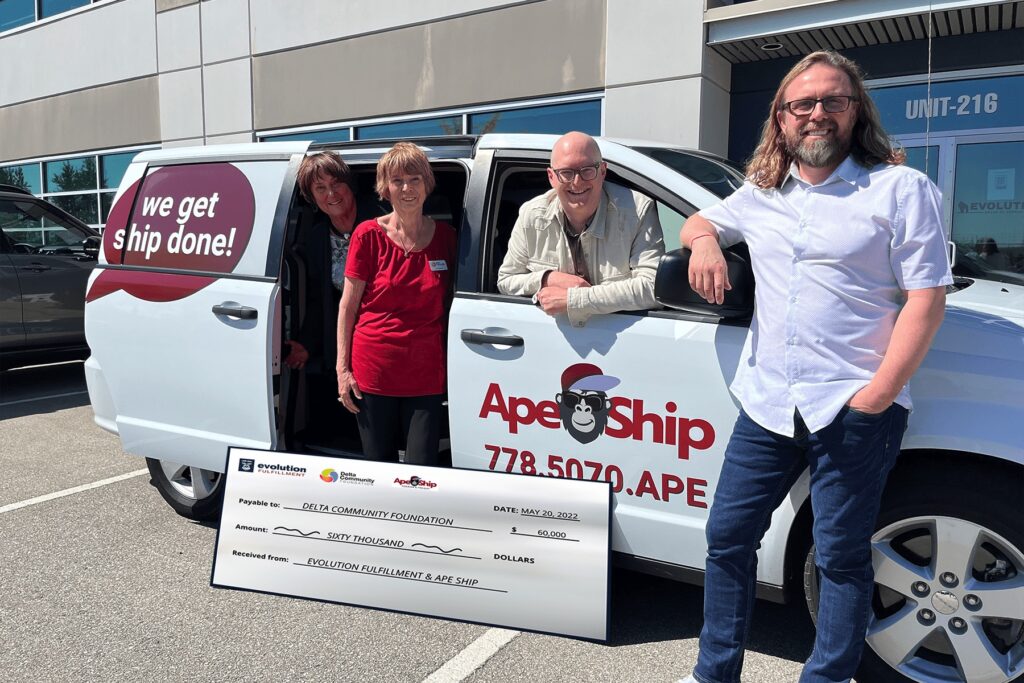 This past Mother's Day weekend, locally-based Evolution Fulfillment, and Ape Ship Courier & Freight, raised $30,000 to benefit the Delta Community Foundation. The Mother's Day weekend sale was met with an outpouring of support by our local community, successfully raising $30,000 over the 3-day event. In addition to this, both Evolution Fulfillment and Ape Ship extended their generosity even further by donating $15,000 each to match the $30,000 raised through the warehouse sale, for a total donation of $60,000 to the Delta Community Foundation. On top of this generous donation, the City of Delta sponsored the venue, Ladner's Harris Barn, enabling the Delta Community Foundation to fund the Foundation's charitable mission and support Delta charities. Delta Community Foundation Vice President Carlene Lewall admires one among thousands of items of clothing, hats and shoes on sale over Mother's Day weekend.
"It was great to see the community come out and support the sale. We had an extraordinary group of volunteers that really made it fun and easy!" says Ben Martin, president and CEO of Evolution Group of Companies.
"Evolution earmarks funds each year for community and charitable contributions and I felt that this would be a great opportunity to inject some of these funds directly into the local community by matching the sales proceeds," Martin says.
He said the Delta Community Foundation is Delta's charity for all charities, and we know that these funds will provide opportunities where there is need across Delta. Through both Evolution Fulfillment and Ape Ship, community is at the heart of everything we do, and we always remain committed to moving our communities forward.
"I love that the foundation provides assistance directly to people in need in our community, as well as some of the smaller charities that need that little boost to keep their programs running."
Carlene Lewall, Vice President of the Delta Community Foundation, knows how big of an impact the funds raised will have for the Foundation and the causes they support.
"We are truly overwhelmed with the generosity shown by the Evolution Group. Not only did they donate all the items for sale on Mother's Day Weekend, but their staff also worked alongside all of us and our many volunteers to make the sale a great success," Lewall says. "We are humbled by it all. Without all the amazing volunteers, Evolution's generous support and the City of Delta, we could not have hosted such a successful event."
About Evolution Group of Companies

Established in 2010, 
Evolution Group of Companies h
as grown to include five distinct operating entities: Evolution Fulfillment, Evolution Global, Ape Ship, Order Marshal and Blastramp. Each one of our brands is unique in its own way and effectively allows international businesses to operate in Canada and the US with turnkey order fulfillment solutions. Our focus on efficiencies, solutions, and technologies sets us apart.
From warehousing and fulfillment, customer service and accounting to software integrations, application development and shipping and courier – we have evolved to cover all aspects of supply chain management.